In an industry that is all about networking and who you know, business cards are a great tool. They are a convenient way to give a new friend or business contact a little pocket-sized reminder of who you are, what you do, and how to get in contact with you. Moreover, in a industry where individuality, creativity and quality are valued, musicians need to use business cards that reflect their personality, artistry and character.
There are a lot of different ways to approach the musician business card. Let's start with some examples.
We'll start with my absolute favorite business card from my friend Bart, a musician in the Hampton Roads area of Virginia who was kind enough to let me reprint his card here. He's a funny guy, and people always like working with him. Read his selling points at the bottom of the card.
A business card that makes other musicians laugh out loud is priceless.
Understandably, though, I think Bart is careful about who he hands this particular card out to. You have to make sure they've got a sense of humor first. I believe he keeps another set of regular business cards with him as well.
Next is a card from Jeff Fajans, a member of our Facebook group, who uses a really dynamic design on his card. He told me, and I think he's right, that the colors on this card make it stand out from the others. In his words, "I really believe that it is important to set yourself apart in any way you can, especially when there are so many talented musicians." Jeff had his card designed by M13 Graphics and is very happy with their service.
Also from the Facebook group, Kahuna Kawentzmann sends us his business card all the way from Germany. Great use of typography. For you language geeks out there, "Gitarren Aufnahmedienst" means "Guitar Recordings Services."
Below is fellow MW blogger Cameron Mizell's business card. Years ago this same image used to be the front page of his website.
Pairing the business card, album and website altogether with one look is a great idea for branding yourself or your band. Check out what MW contributing writer Gary Melvin sent us. Note that the top is the front of the card, and the bottom is the back.
Derek Sivers recently wrote a post on his blog about throwing out the traditional business card paradigm and handing out something more practical to people. Check out his custom made guitar picks.
I think this works out especially well for Derek because his past and future businesses all cater to musicians that are online. A cheap, often used piece of musician flare with his website stamped right on it? You can't go wrong.
Thanks to David Rose of KnowTheMusicBiz.com for pointing out Derek's post to me.
For my own business cards, I went for a very professional, almost attorney-like look.  Whether I'm trying to book a cocktail gig at a swanky party, or looking for a spot in a theatre pit, the people that hire me are typically looking for a musician with attorney-like professionalism, and I try to portray some class in my card.  Also, at least in typography, it matches my website and both of my albums.
One website that you should definitely visit for creative ideas in business card design (although not specifically musician business cards) is CreativeBits.org. I'd like to reprint everything on their page here to show you, but I'll just pick my favorite one and hope that you visit their site and see for yourself.
Here's a card on CreativeBits.org from a lawn care company. Pretty clever.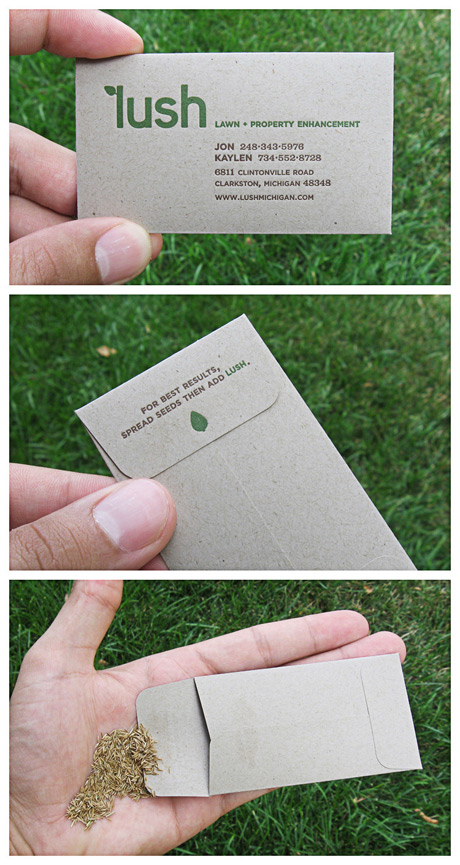 Another creative approach to business cards (and album artwork, for that matter) is to hand make each one. It's a time consuming idea, but would really differentiate your business card from others. Look at this card from Adam Behringer, care of BeeDocs.com.
If you are interested in making a stamped card like this, check out SimonStamp.com. I've looked into this option myself and they were the service I had finally centered on.
There are several different online business card services that musicians recommended to us. Naturally there is the inescapable VistaPrint.com, which still provides free business cards for people that don't care if the Vista Print logo lives on the backside. Cameron tells me that the next time he gets cards it'll be through Moo.com, and as I said before, guitarist Jeff Fajans suggests M13 Graphics.
Whatever service you go with, my final advice it to pay special attention to, and more $$ for, the details of your business card.  A major rookie mistake in business cards is to pick the cheapest stock and the cheapest printing.  Choose a thick cardstock, embossed printing or a high gloss finish – or maybe a nice matte finish.  It can seem like an unnecessary expense, but it's worth dropping a little more dough on the project.  These little cards will represent you after you are gone, and you'll need them to be impressive advocates.
Here's a short anecdote I'll leave you with. The story goes that when Lyndon B. Johnson was President of the United States, he would give out little presents to his staff.  One of the presents was an electric toothbrush with his picture on one side and the presidential seal on the other.  As he said, "I give these toothbrushes for then I know that from now until the end of their days they will think of me the first thing in the morning and the last at night."
Now that's what I call an effective business card.